Ant removal & control services
There are a number of different species of ant that can cause problems in the UK; the most common are the black ant and the garden ant, but it is not unheard of for people to report flying ant or tropical pharaoh ant infestations. The best solution is prevention, and there are a number of things you can do to prevent an ant infestation, including:
- Properly sealing all opened food in airtight containers, including cupboard food.
- Quickly cleaning up any food or drink spillages
- Being sure to clean in hard to reach areas of your kitchen, such as underneath the cooker, fridge and freezer
- Not leaving out any pet bowls
If ants do make it into your home or workplace, they will be looking for and attracted to foodstuffs (including any pet food), particularly those that are sweet and sticky. Initially, you can try to get rid of ants in your home yourself, using one of a number of widely available DIY solutions, including powders and bait stations. However, these are limited in their efficacy, and if you are suffering from a full-on infestation then total eradication is unlikely using these methods, as, in the interests of public health and safety, over the counter ant treatments are low concentration, and so not as effective as the treatments that professional, licensed exterminators have access to. Also, a trained pest controller will also have the knowledge and experience to apply these treatments to their fullest effect. The right treatment will depend on the species of ant, as their colony systems are quite different, and some can rebuild very quickly if not fully eradicated, which can exacerbate the problem rather than solve it - only an expert will be able to identify the species for you, so it is always advisable to seek professional help.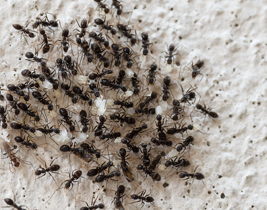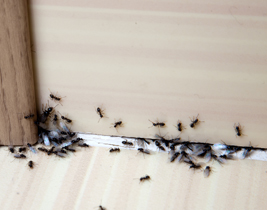 Ant Pest Controller and Removal
As a professional pest controller, Pestokil Pest Control Support has access to the most effective and up to date chemicals and solutions currently available. We use a range of thorough treatment methods, including baiting, and spraying all cracks and crevices, to achieve fast and lasting results.
Call us on : 020 8857 4237